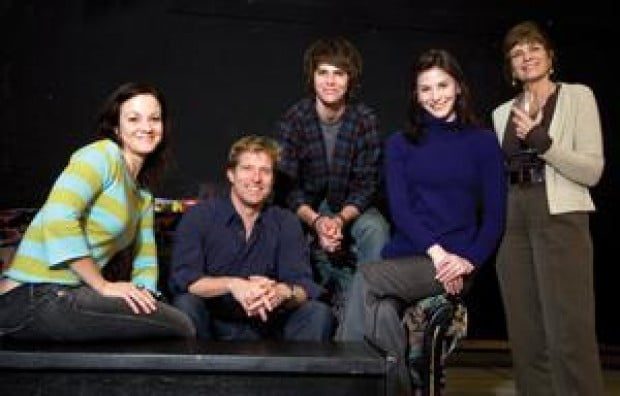 Katharine Ross co-stars in play directed by Graeme Clifford.
By Olivia Damavandi / Special to The Malibu Times
Whoever said the only certainties in life are death and taxes forgot a third one: tragedy, the nucleus of so many plays including "Rabbit Hole," scheduled to open at Malibu Stage Company Feb. 6. Directed by renowned film editor and director Graeme Clifford and featuring a cast including acclaimed actress Katharine Ross ("The Graduate," "Butch Cassidy and the Sundance Kid"), the production is centered on a universal theme that promises something for everyone-even humor.
Written by David Lindsay-Abaire, "Rabbit Hole" tells the story of the Corbetts, an ordinary family whose world is suddenly turned upside down by an unforeseen tragic accident. Despite the 2007 Pulitzer Prize-winning play's calamitous plot, it is well known for its humorous irony that has long left audiences bursting with laughter.
Clifford, a longtime Malibu resident, has worked in film and television for more than 35 years as a film editor and director (he directed Jessica Lange in "Frances" and edited her in "A Postman Always Rings Twice").
When asked his preference of directing theater or film, Graeme replied, "Both. In movies you're working with a visual palette to a much greater degree and you're shooting in little chunks, so it's a different way of directing and piecing things together. When you're doing a play, you're looking at the whole story the entire time, even when you're rehearsing individual scenes."
The cast of "Rabbit Hole" is comprised of Ross, another longtime Malibu resident, Sharon Gardner, Jeffrey Doornbos, Tasha Ames and Mimo Reynolds, a 17-year-old Malibu High School student. Local talent is present offstage as well, with sisters Danielle and Sasha Horn as stage manager/costume designer and assistant prop manager. Clifford said he "lucked out" in casting the script, the process of which consisted of many auditions from actors near and far.
Doornbos recently moved to Los Angeles from New York, where he worked in theater with the Blue Man Group, to pursue an interest in film.
"In many family relationships-mother-daughter relationships, father-daughter relationships-there's this process of being your own person but still being a parent or still being a child," Doornbos said. "That conflict, I think, might make some families ask 'why is my family like this?' and then you see 'Rabbit Hole' and realize oh, our family isn't the only one having problems."
Ross, who was in Oregon at the time of the auditions, agreed to act in "Rabbit Hole" after Clifford contacted her agent, and said her inclination to do the play was spurred by its pandemic theme.
"It's dealing specifically with a tragic accident, but we all go through some kind of tragedy in our lives," Ross said. "It's about the human condition, about using humor to deal with tragedy. Sometimes, the way we deal with a sad situation is rather humorous."
Reynolds agreed, and said the play is valuable to teenagers as well. A plethora of casualties in Malibu have made some familiar with tragic loss, as the city has lost a number of youths to unfortunate accidents.
In addition to acting in the play, Reynolds, who attended Point Dume Elementary School and who has been involved with theater since fifth grade, has also written all the original music for "Rabbit Hole." The avid piano and guitar player said, "It's nice to work with feelings and the transitions between them."
Clifford and the cast said they look forward to the ultimately uplifting performance.
"I think it ["Rabbit Hole"] is an exploration of how each individual person deals with grief," Clifford said. "It might cause audiences to look at themselves and think about how they've dealt with certain episodes in their own lives. It's a play that hits home on a lot of different levels."
"Rabbit Hole" opens Feb. 6 and runs through March 1, on Fridays, Saturdays and Sundays at the Malibu Stage Company, 29243 Pacific Coast Highway. Tickets are $20 and can be obtained by calling 310.589.1998. A special wine and cheese reception to meet the actors will take place opening night. Tickets to the reception, which includes the play, cost $25.